An Internet protocol camera, or IP camera, is a type of digital video camera commonly employed for surveillance, and which, unlike analog closed circuit television (CCTV) cameras, can send and receive data via a computer network and the Internet.
IP Security Cameras & IP Video Servers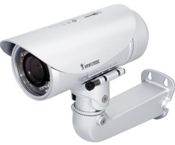 IP security cameras and IP video servers are connected to an IP network using an Ethernet connection / CAT-5 cable. IP cameras and video servers have built in web servers so that the surveillance video that they transmit can be viewed directly from the camera over the Internet using a web browser, such as Internet Explorer. There is no need for a DVR or video capture card in order to broadcast the surveillance video over the Internet. IP video servers, also known as network video servers turn any CCTV camera (with a standard BNC output) into an IP based network camera (Ethernet output).
IP surveillance
What is IP surveillance?
IP surveillance is a digitized and networked version of closed-circuit television (CCTV). In an IP surveillance system, an IP camera records video footage and the resulting content is distributed over an IP (Internet protocol) network.
Digitization offers a number of benefits over traditional analog CCTV, including:
Improved search capability.
Greater ease of use.
Better quality images and no degradation of content over time.
The ability to record and play simultaneously.
The ability to compress content for improved storage.
Adding networking capability to digital CCTV provides additional benefits, including:
Improved ability for remote viewing and control. Anyone on the network can potentially see video from any camera connected to the network.
IP storage makes it possible to store data in any geographic location.
Greater ease of distribution. An image of a crime suspect, for example, can be immediately distributed to officials.
The ability to connect to email and other communications systems so that alerts can be sent automatically.
There is a growing industry trend towards replacing analog CCTV  with IP surveillance systems.
Learn More About IT:
> This Motorola white paper discusses the benefits of IP surveillance.
> Barbara Darrow writes about the opportunity IP surveillance creates for VARs.
> This Axis Communications white paper discusses migrating from CCTV to IP surveillance.
> Andrew Hickey reported on IP surveillance catching criminals in New Orleans.